Mitavite Formula 3 20kg
Formula 3 is an oat free, muesli style, high energy complete feed, ideal for high performance horses prone to tying up.
Extruded & Micronized Grains to maximise digestibility & nutrient utilisation.
High levels of Vitamin E support muscle function & recovery.
Probiotics produce healthy gut flora.
Omega Rich Oils strengthen immune system & help reduce inflammation.
Vitamin A to support immune function, gene action & red blood cell production.
Bonafide, featuring Quinaquanone, a Bioavailable form of Vitamin K1 & K2, proven in trials to increase bone density.
High Biotin levels for strong hooves & healthy skin.
Cooked and Rolled barley and lupins; faba beans, corn, canola meal, canola oil (including omega 3 and omega 9 fatty acids), Molafos Gold, Mitavite vitamin and mineral premix (including heat stable vitamins and chelated mineral proteinates), salt, molasses, Quinaquanone (the active constituent of Bonafide), chromium yeast culture and natural enzymes.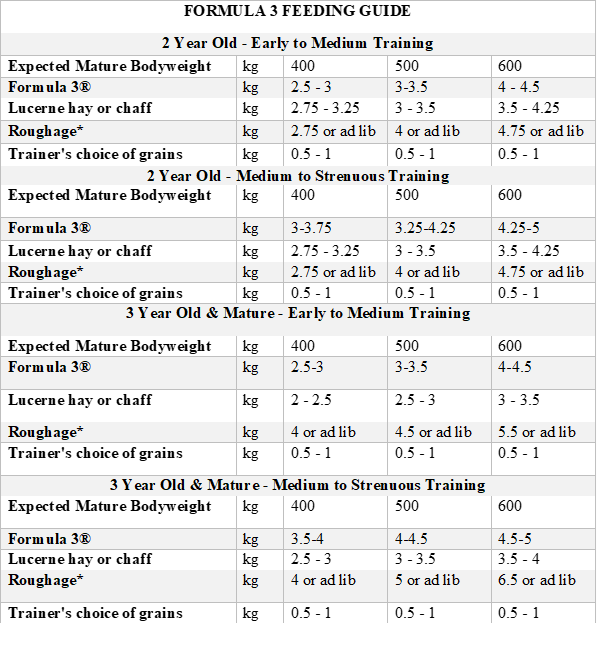 *Roughage (hay, chaff, grass hay, pasture, Beet Pulp etc) should be fed at 1-1.5% of bodyweight. Total daily feed (concentrate + roughage) should be 2-3% of bodyweight depending on age, workload, stage of pregnancy or lactation & climate.  Feeding rates intended as a guide only.  All variables should be taken into consideration.