Hygain
Hygain Grotorque 20kg
Hygain Grotorque 20kg
Hygain Grotorque is a micronized sweet feed concentrate scientifically formulated and balanced to meet the nutritional requirements of growing horses, mares and stallions.
Grotorque, the breeders' choice for weanling and yearling sales preparation.
Complete Micronized sweet feed concentrate for improved digestion.
Amino Acids, the building blocks of protein for muscle development and to maximize growth.
Prebiotics to support a healthy gut and immune system.
Pure Rice Bran Oil to maximise absorption and feed efficiency for muscle building.
Chelated Minerals are highly available and support healthy bones.
Natural Vitamin E for antioxidant, circulatory and cardiovascular functions.
Probiotic aids in fibre, phosphorus and calcium digestion.
MICRLUPINS, MICRBEANS , Sunflower Seeds, Vegetable Protien Meals,  Canola Meal, Lucerne Meal, RBO, Natural Vitamin E, Lysine, Molasses, Salt, Calcium Carbonate, Di-Calcium Phosphate, Magnesium Oxide, Prebiotic (MOS), Probiotic (live yeast), Methionine, Biotin and HYGAIN Vitamin and Chelated Mineral Premix
Formulated as a concentrate, HYGAIN GROTORQUE contains quality protein for fertility and reproduction, essential amino acids for muscle building, along with balanced levels of critical macro and micro trace minerals for sound skeletal development and Bio-Mos for optimum gut health.
The pellet in HYGAIN GROTORQUE provides the carrier for the minerals and vitamins ensuring even distribution throughout the feed and preventing separation in the feed bin.
HYGAIN GROTORQUE may be fed with grain such as oats or micronized barley to maintain condition and provide the energy for growth. Care should be taken to match feed intake to dietary requirements particularly with growing horses as excess energy may increase the incidence of developmental orthopedic diseases.
If horses are obese or at risk of a developmental orthopedic disease remove grain from the diet and feed HYGAIN GROTORQUE alone with chaff and/or hay. Seek professional advice.
HYGAIN GROTORQUE should be fed in conjunction with quality pasture, hay and/or chaff.
Introduce HYGAIN GROTORQUE to your horse's diet gradually over a 7-14 day period.
Feed by weight and not by volume.
Feed a minimum of 1.5% of your horse's body weight daily as roughage.
Horses have a small stomach, so feed little and often.
Ensure horses have access to clean water.
Do not add additional vitamins or minerals unless directed by a veterinarian or nutritionist.
For dietary recommendations and nutritional solutions contact HYGAIN.
Feeding Rates Per Day*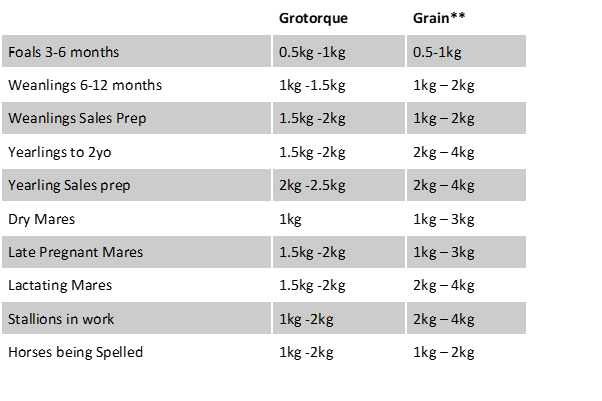 *Intended as a guide only, all variables should be taken into consideration.
**Depending on pasture quality and availability, grain may not be required.